Jeffrey Scott Holland:Songwriter, musician, performance artist, antiques dealer, cassette manufacturer, record producer, radio deejay, internet presence, general annoyance -- Holland has been all that, and then some.
Born sometime within the past three decades in Richmond, Kentucky, Holland was educated at Model Lab School, where his fellow
classmates included other Pusm Music legends such as Shay Quillen, Kurt Adams, Carla Gover and JLK. Upon graduating from Model Lab, Holland attended the Atlanta Institute of Art for about three days before quitting to open his own graphic art studio, ARTWERX. Despite immediate success with the studio, Holland closed it after a summer, and hit the road. After several years of this, Holland
baffled friends by returning to his sleepy little hometown of Richmond, and taking a job at the local Burger King! It was during this time that Holland joined one of the premier pusm acts, Central Rock Company, as lead guitarist. Joining the band was pretty logical, as CRC frontmen Shay Quillen and Kurt Adams lived in the subdivision known as Stateland, as did Holland. He became one of the essential driving forces behind CRC, as he and drummer Chris Staples were the only members of the band who played any instruments.
After CRC broke up around 1987, Holland's whereabouts are largely unrecorded. It is believed that during this time he first encountered Retrovirus and Opportunistic Infection, a union that would have profound effects in the future. Holland next turned up sometime in 1990 as a deejay for WRFL in Lexington, Kentucky, the student-run radio station at the University of Kentucky, despite the fact that he wasn't a student (which didn't stop him from being appointed music director of the station a year later).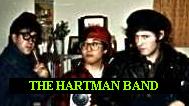 At about this time he first began a long association with JLK, whom he had worked with before when JLK managed and produced CRC. Their first musical collaboration came with the formation of the Hartman Band in late 1990, along with Shay Quillen. Holland then joined JLK as guitarist for JLK's third album as JLK Semicolon Etcetera in 1991, and continued to contribute his musical talent on a multitude of instruments to JLK ; etc.'s next three albums.

Holland also formed his own musical acts, featuring himself on lead vocals and guitars. Industry Standards was one such act which went through many incarnations before dissolving in 1995 to be replaced by a similar act, Formula LX-321, which broke up a little more than a year later. Holland's musical repertoire consisted primarily of rockabilly covers, although he had been writing original songs for years. His most recent act, Cheeseburger and Fries, Todd Dockery on vocals and drums, has continued this tradition.
Holland has been discussing a solo album project for years, as Holland has always primarily been a solo performer on the electric guitar. Initially conceived as a vinyl-only project, Holland finally succumbed in early 1996 and handed over a number of sessions to JLK Records for assembly of a debut solo cassette, "Countdown to Stupidity." This album marks Holland's first widely-available solo release, as he has had nummerous homemade solo cassettes for years.
Jeffrey Scott Holland. One multitalented individual. An exciting presence in Pusm Music.
Thanks to Scooter Odum and JLK for their assistance and information.
More information about Jeffrey Scott Holland can be found at the
Jeffrey Scott Holland Information Clearinghouse.
Photo credits (from top) = 1: Holland; 2: A.Bromley; 3, 4: JLK, 5: Valle
Copyright 1997 JLK Productions